openGFX430 :: Overview
Project maintainers
Details
Name: opengfx430
Created: Aug 3, 2016
Updated: Nov 25, 2016
SVN Updated: Nov 3, 2016
SVN: Browse
Latest version: download
Statistics: View
Other project properties
Category: Video controller
Language: Verilog
Development status: Alpha
Additional info: FPGA proven
WishBone compliant: No
WishBone version: n/a
License: BSD
Overview
Introduction
The openGFX430 is a synthesizable Graphic controller written in Verilog and tailored for the
openMSP430
core.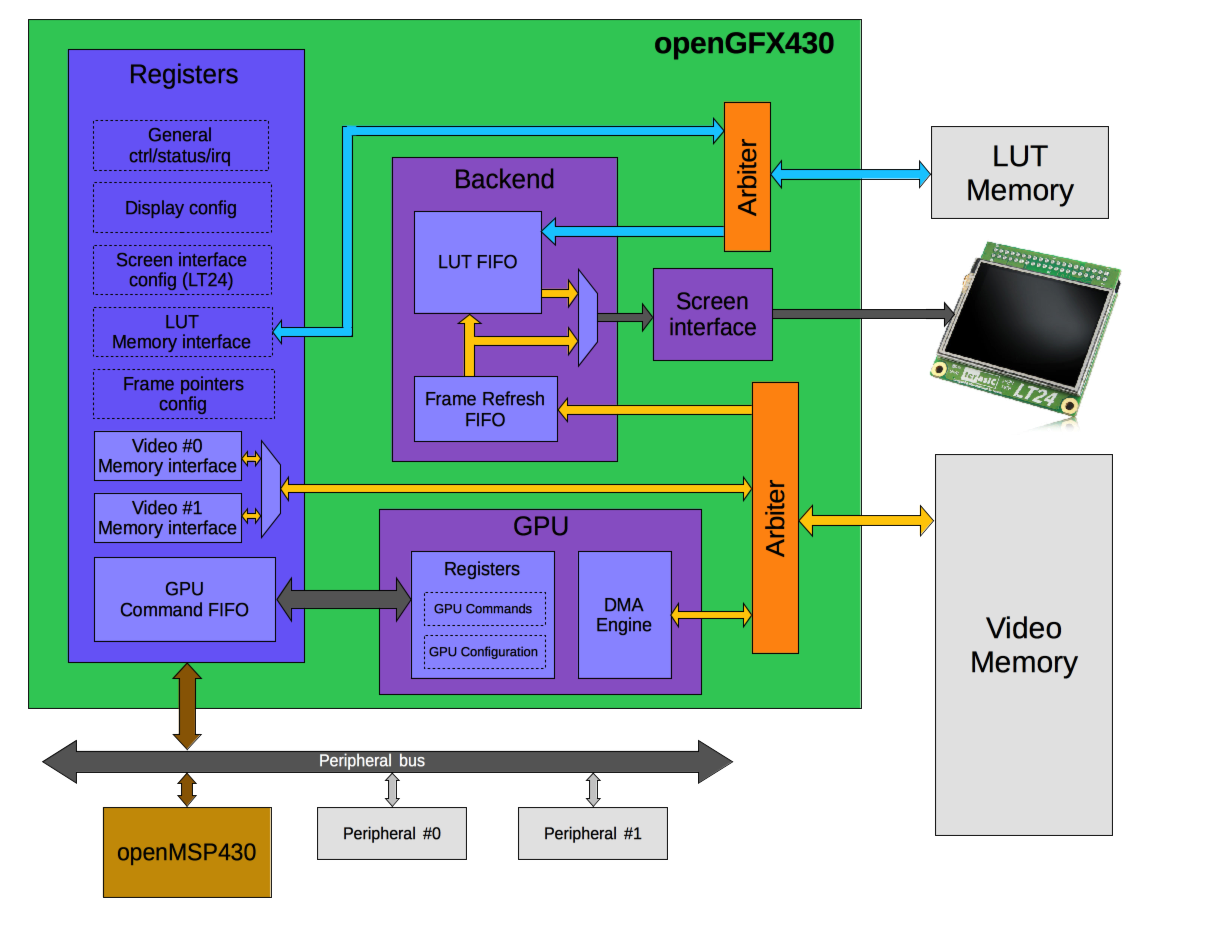 An example implementation based on the
DE0-Nano-SoC
and
LT24 daughter board
from Terasic can be found in the openMSP430 FPGA section (
see here
).
Features & TODOs
Features
Support of the following graphic modes:

16bpp
8bpp
4bpp
2bpp
1bpp

Smart address generation unit for fast indirect memory access.
GPU allowing hardware FILL, COPY and COPY_TRANSPARENT operations.
Supports the LT24 Terasic daughter card.
TODOs
In no particular priority order:
RTL:

Add support popular video interfaces (i.e. probably SPI and VGA in addition to LT24).
Character processing unit.
Hardware cursor

Others:

Add proper block level verification environment.
Documentation.
Download
Design
The complete tar archive of the project can be downloaded
here
(OpenCores account required).
The following SVN command can be run from a console (or
GUI
):
| | | | |
| --- | --- | --- | --- |
| | | | svn export http://opencores.org/ocsvn/opengfx430/opengfx430/trunk/ opengfx430 |
ChangeLog
The Core's ChangeLog lists the Video Controller updates.
Subscribe to the following RSS feed to keep yourself informed about ALL updates.