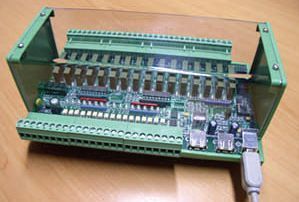 USB Input/output board with 17 inputs and 16 outputs
In any industrial automation environment where there is a PC, there is also the need to be able to read digital signals and to drive power outputs ; at the same time this has to be done in a very reliable way, without adding unneeded complexity to cabling and connections. USB-IO is the product that solves all requirements connected with automation in harsh environments; nevertheless it is very easy to use, thanks to the integrated USB hub, the quick coupling terminals, the universal software libraries that avoid using custom drivers. All these features sum up to a very cheap installation, that is also very easy to carry out and then later maintain.
A special attention has been paid to the handling of energency situations, via both hardware and software external and internal checks, as well as to the electromagnetic immunity, thanks to the galvanically isolated power supply.
The USB interface for the input board allows an easy connection to almost every PC of a big number of boards, keeping at the same time a predictable low delay and high transfer rate. USB-IO manufacturing and engineering are completely done in Europe, thus ensuring quality and long operating life ; we guarantee the product availability over the years too.
Main technical specifications
Input Voltage
22-27 Volt galvanically isolated
Power consumption
8 W (maximum)
Operating temperature
from 0 to +60°C
Storage temperature
from -40° to +85°C
Sizes
88 mm ( width) , 130 mm (height), 90 mm (depth)
Interfaces
17 optocoupled 24V D.C. inputs, 16 relay driven outputs, with normally open potential free contact rated 2A 250 V A.C/D.C., 1 USB port B, 2 USB port A
Mounting
Quick snap on rails according to DIN 46277 and EN50022 norms
Inputs technical specifications
Input count
17
Operating voltage
24 V D.C.
Protection
Optoisolated with maximum operating voltage isolation of 565 V p.p.
Connections
Multi-terminal plugs
Outputs technical specifications
output count
16
Output type
normally open potential-free relay contact rated 2A 250 V A.C/D.C
Connections
Multi-terminal plugs
USB ports technical specifications
Port type
1 type B port self powered for host connection and 2 type A ports for hub outputs
Connections
1 USB B and 2 USB A
I/O board with 17 inputs and 16 outputs, USB interface with 2 port integrated hub : drastically simplified cabling
DIN rails mounting with quick snap on: a must for industrial racks
Modularity and expandibility: the integrated USB hub connects to a single host USB port up to 256 boards, with a maximum of 4096 outputs
The galvanically isolated power supply protects from heavy electrical disturbances
Easy readout of input state on high efficiency LEDs
Hardware emergency input on board: a special purpose input can be programmed(or optionally disabled, the feature is normally enabled) to switch off immediately all outputs even if the software drives them on
A configurable timeout can also switch off all outputs if the host doesn't send any command within a given time
No custom driver is needed : a simple interface library, complete with examples, is all you need to be able to drive the board from Linux or Windows
Price: 330.00 €
VAT excluded
VAT will be added to the total price by PayPal (only for destinations in the EU).
If you are a company located inside the EU you are not required to pay VAT, please contact ORSoC directly via info@orsoc.se for purchases.
Additional images