XENIE programmable 10GBASE-T FPGA module :: Overview
Project maintainers
Details
Name: xenie
Created: May 10, 2017
Updated: Nov 7, 2018
SVN Updated: Nov 7, 2018
SVN:
Browse
Latest version:
download
(might take a bit to start...)
Statistics:
View
Bugs:
0 reported / 0 solved
Star
1
you like it: star it!
Other project properties
Category:
Prototype board
Language:
VHDL
Development status:
Stable
Additional info:
WishBone compliant: No
WishBone version: n/a
License: LGPL
Description
The Xenie is a product family of highly integrated FPGA modules that includes the Xilinx® Kintex7® FPGA and 10Gbit Ethernet Marvell Alaska X 88X3310P PHY on a single board. The module is fully programmable to provide "Any to Ethernet" high performance connectivity. On the line side, the PHY supports the following protocols 10GBASE-T, 5GBASE-T, 2.5GBASE-T, 1000BASE-T, 100BASE-TX and 10BASE-Te. The PHY is compatible with the IEEE 802.3an, IEEE 802.3bz standards, NBASE-T™ Specification and supports IEEE802.1ae MACsec protocol and PTP functionality with IEEE 1588 v2. PTP time-stamp processing.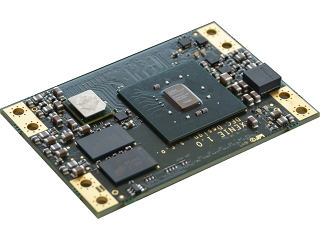 The FPGA's MGT lines support rates up to 12.5Gbit. The module is equipped with 1 GByte of DDR3L SDRAM and 32 MByte of Flash memory as a storage for configuration bitstream. Six GTX multi-gigabit transceivers and three full FPGA I/O banks (in total 150 single-ended I/O or up to 72 differential pairs) with configurable IO voltage are available via two high-speed, high-pin-count, board-to-board connectors. All other necessary supporting circuitry, like clock oscillators and voltage regulators are placed on module, requiring the user to attach literally only connectors and a single DC power supply.
Key Features
Kintex 7 – XC7K160T-2FFG676C or XC7K70T-1FBG676C
1GB DDR3L memory (32b x 1600Mt/s)
6 x GTX Transceivers are available for custom applications
150 single-ended I/O or up to 72 diff. pairs
3.3V single voltage power supply
10Mbit to 10Gbit data rates on UTP copper line
Compliant with NBASE-T spec. for 2.5G and 5G
100m reach on Cat5e for 2.5G and 5G modes
100m reach on Cat6a for 10G mode
Small form factor 76 x 52 mm
Flexible expansion via high-density board-toboard connectors
Applications
Camera systems, Hyperspectral imaging
PCI Express interface
Protocol converters, bridges
Security applications
IP development
Digital signal processing
Cloud computing
General-purpose prototyping platform
DAC/ADC - JESD204B
12G, 6G, 3G-SDI, HD-SDI Video
Video compression systems
Currently stocking:
| FPGA P/N | XC7K70T-1FBG676C | XC7K160T-2FFG676C |
| --- | --- | --- |
| Logic cells |   65 600 |   162 240 |
| Block RAM (36Kb) |   135 |   325 |
| DSP48 slices |   240 |   600 |
| DDR3L max. data rate |   667 Mb/s |   1066 Mb/s |
| GTX max. data rate |   6.6 Gb/s |   10.3125 Gb/s |
| Package |   FBG676 |   FBG676 |
| |         buy here |         buy here |
The Xenie can be also ordered in various assembly variants, depending on required features, amount of FPGA logic resources, type of package or speed-grade. Please contact us for further information.
Resources:
© copyright 1999-2018 OpenCores.org, equivalent to Oliscience, all rights reserved. OpenCores®, registered trademark.